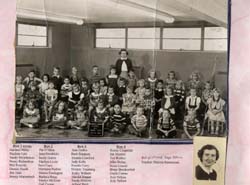 Kindergarten at Winthrop Harbor (Ms. Rasmussen), 1950 (for best results, set the "page setup" to landscape before printing)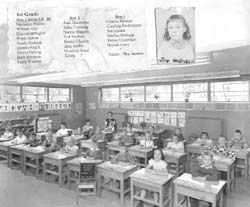 First grade at Winthrop Harbor (Mrs. Newton), 1951 (for best results, set the "page setup" to landscape before printing)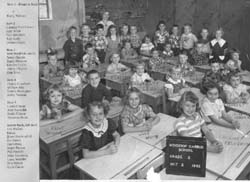 Second grade at Winthrop Harbor (Miss Hoskins), 1952 (for best results, set the "page setup" to landscape before printing)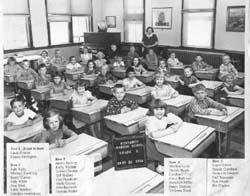 Third grade at Winthrop Harbor (Mrs. Bogue), 1953 (for best results, set the "page setup" to landscape before printing)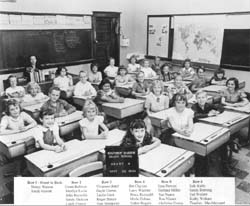 Fourth grade at Winthrop Harbor (Mrs. Maynard), 1954 (for best results, set the "page setup" to landscape before printing)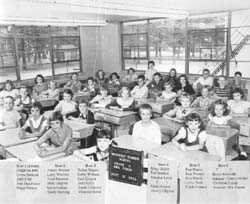 Fifth grade at Winthrop Harbor (Mrs. Simon), 1955 (for best results, set the "page setup" to landscape before printing)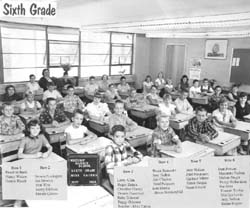 Sixth grade at Winthrop Harbor (Miss Cairns), 1956 (for best results, set the "page setup" to landscape before printing)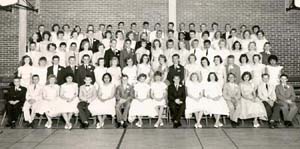 8th Grade graduation at Beach Park (1959) (for best results, set the "page setup" to landscape before printing)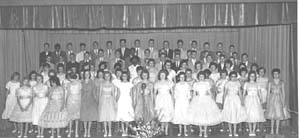 8th Grade graduation at Central Jr. High, Zion (1959). Not to let BP outdo us Zionites, we also donned our Sunday best for this photo. Any guesses as to how long after this "moment in time" before we had our ties stuffed in our pockets????? (for best results, set the "page setup" to landscape before printing)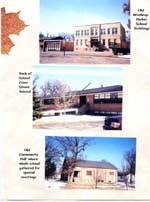 Winthrop Harbor school buildings. Makes those of us from Zion feel fortunate to have our Elmwood, Lakeview, and East Schools!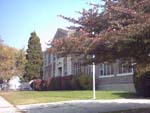 Elmwood School (Zion) as it looks now (which isn't much different than in years past)!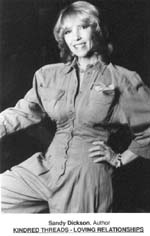 Is this the same Sandy from the photos above?????? Press photo for Sandy's book, Kindred Threads - Loving Relationships.
Sandy's Time song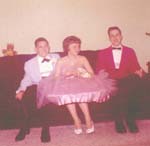 We just had to sneak a photo of Glen in there (alongside Rick Hauenstein and Betty Vass - on prom night)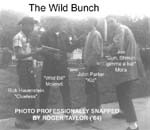 Where are they now?? Only Mr. Hauenstein has "survived!" Mr. Mora, Mr. Molendi, and Mr. Parker are all MIA!!!!! (Gun and doll day - naturally - in 1963)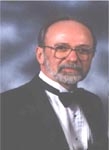 Vittorio - yes, a member of the class of '63! Hint: he is one of the featured "The Wild Bunch" characters!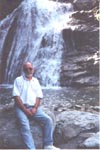 Another Vittorio photo! Say! Doesn't look like anyplace in WH-Zion-BP-Waukegan!!